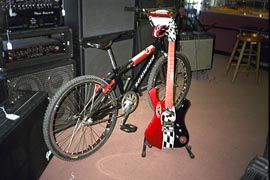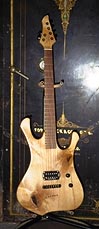 Custom Viper built for Schwinn Bicycle Company. The top half of the guitars is candy red sparkle and the bottom is gloss black. A checkered flag graphic runs through the center on the front and back, also across the peg face.

KGB Viper

Knotty Guitar Body made from custom shop alder w/ matching peg face.

Custom Zebra wood Viper with Cocabolo neck

Wilkinson trem and Duncan pickups

The Viper was our first body style.

Standard model is available as follows:

Custom shop Alder body

Bolt on Maple neck with 2x4 headstock

with your choice of fingerboard

22 frets and a 25.5" scale length

Seymour Duncan Hum/Single pickups

Volume w/ a 3 way pickup selector switch

Sperzel non-locking machines

Available in various Transparent colors

Black or Chrome hardware

Retail Price: $1499.00 w/ gigbag

Custom orders are available

If you would like more information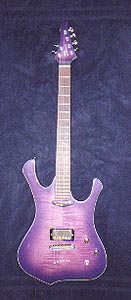 Viper XS

Alder body

Flame Maple top

Maple neck w/

Purpleheart fb

Transparent Purple burst finish with matching headstock

$1795.00 w/hardcase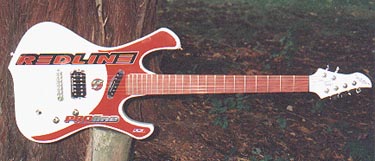 Custom REDLINE Viper. Built for Chuck Hooper in Seatle, WA.

Alder body, Maple neck w/ Redheart fb. Custom graphics make

this guitar really stand out. Chuck's nic name "HOOP" is engraved on the pegface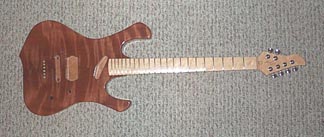 Custom order Viper built for Brian Vaughn. Curly Redwood top on an Alder body with a Birdseye maple neck. Brian choose to add his own hardware and pickups.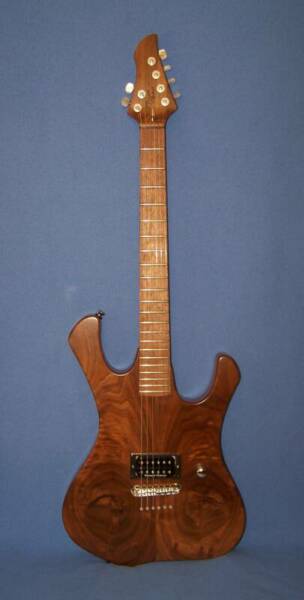 Walnut Viper

Alder body with book matched walnut top. Walnut neck.

Duncan Distortion pickup. Locking Sperzels.